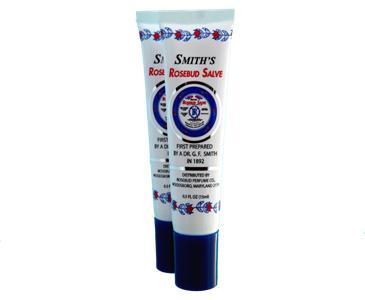 Smith's Rosebud Salve Tube
Rosebud Perfume Co.
by Rosebud Perfume Co.
This world-famous miracle salve all purpose lip balm and salve is a favorite since 1892. Formulated with cotton seed oil and Dr. G.F. Smith's trade secret blend of essential oils and perfume, can be used to ease dry lips and skin, minor burns, and even diaper rash. Packaged in a squeezable tube.
Details:
cruelty-free product
vegan friendly
gluten-free
heat sensitive, melted lip balms in tins are difficult to open, we recommend purchasing the ones in tube packaging during hot weather.
dab gently to affected parts with clean fingers
net. wt. 0.8 oz/22 g
made in USA
Ingredients:
petrolatum, cotton seed oil, Trade Secret Perfume Premix by Dr. G.F. Smith
no parabens, sulfates and phthalates